BY ANDREW FISH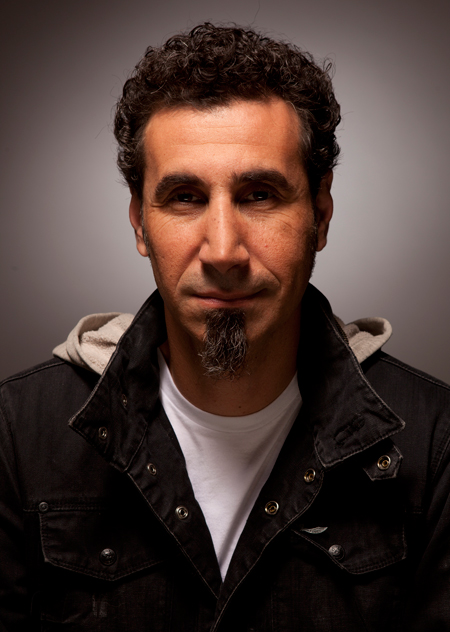 There's a chill I get sometimes when I know I've dug too far into someone's work or philosophy during an interview, a silent request to change the topic before things get weird. I've never felt that with Serj Tankian, no matter what I've ever asked him, which is one of the reasons I was looking forward to talking with him again. He's basically the ideal subject — friendly and articulate with a seemingly bottomless aptitude for detail — so when I learned I'd be connecting with him about his full-orchestra album and new jazz record, I knew I wouldn't have to hold back.
Known for his high-decibel, borderline operatic vocals, Tankian has been taking some creative quiet time, at least in a relative sense. Even as he's back to rocking live with System of a Down, his two latest solo projects are comparatively low-key. Released this month is Orca, his first symphony, recorded at Brucknerhaus in Linz, Austria, and in July comes Jazz-iz Christ, a wide-net jazz fusion project — both featuring elements of traditional Armenian melodies. Meticulously assembled and packed with guts and pathos, the albums come through as musical meditations with a subtle brand of buildup and climax. Orca's full orchestra lays out a grand narrative leading up to a heart-wrenching piece played on the duduk, a traditional Armenian reed instrument, while Jazz-iz Christ injects electro-pop, dance-hall synth, '70s vibe, and classical into old-school jazz. Check out this "Waitomo Caves" track for some serious funk and one of the truly dopest distorted flute solos. Tankian has set himself free and you can feel it.
The multi-genre musician and singer will tour with System of a Down in late July and August and then take his symphony through Europe in September. And as every Tankian fan is anxious for work to begin on a new SOAD album, I have it on good authority that patience will pay off.  After our interview, I sent him a note to clarify — does he see himself committing to a new System record at some point? The answer I received was "Yes."
I spoke with Tankian just before summer set in.
Iconic Interview: How do you begin putting together a symphony? Take us through the process.
Serj Tankian: Like all great discoveries, it starts by accident. I had started working on Imperfect Harmonies, and I was writing these long piano diatribes and fleshing them out into songs. With one or two of the pieces, they were just so long and so melodic that I couldn't envision adding vocals to them, so I had put them aside. At first, I thought these would be great at the end of a record, just listening to these long two pieces. I was in New Zealand at the time and a good friend of mine was over, having a beer and checking out music that I had written — just fresh off the press kind of thing — and he's like, "Bro! These are the first two acts of your symphony." It hadn't even crossed my mind. And I shit you not, I Wikipedia'ed "symphony" to see how many of these acts I would need. [laughs] I'm like, wow, you need four acts, roughly about ten minutes each. I could do this! So I put them aside and worked on other music that could complement it, or other ideas that were symphonic. The first instrumentation is piano in all cases, and then I basically work on the celli, bass, viola, violin one, violin two, brass, percussion, in that exact order — and then add on other instruments we might need. At first I did an original demo and then I refined the demo with tempo changes and modulations here and there to add things that I wanted to it. I reviewed it many times and adjusted it and modified it. Then, when I was happy with the final demo results, we went and scored the whole thing. I have an arranger and I sat down with him and gave him all the material and he basically notated everything. At that point, once we had an orchestra to record it live in Austria, we went in and worked with the conductor. We sent him the score, made some other adjustments, rehearsed the orchestra for a few days, and recorded it! We did a live show; that's what we will be hearing as the final result.
Did you have people playing the instruments for you on the demo, or were you synthesizing it?
I was playing them myself using piano, sample strings, sample brass, sample percussion, and just basically tamping everything that way. Then with the second variation of demos, we started using other samples, better samples, and more modulations and tempo changes, which my arranger does really well with me. I've done all the original demos of all of the different layers of the music. Continue reading →