The Wiccan of Bon Temps: True Blood's Lauren Bowles
BY ANDREW FISH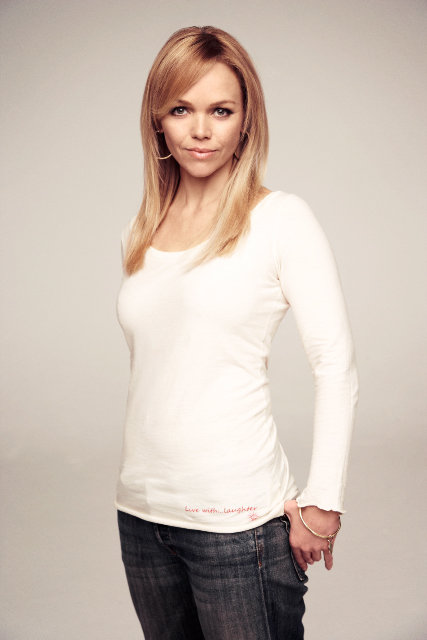 Ever since True Blood hit the air, fans have fantasized about living in the fictional Louisiana town of Bon Temps, and once in a blue moon someone gets her wish. Lauren Bowles has gone from watching the supernatural mayhem from her living room couch to serving burgers at Merlotte's and battling dark forces side by side with Sookie Stackhouse. A screen actress for some time now — with episodes on shows like Ally McBeal, NCIS, Arrested Development, Grey's Anatomy, ER, Cold Case, and tons of others under her belt — Bowles has stepped up to series regular on one of her favorite shows and still can't believe her luck.
She joined the cast of the HBO series in season three as Holly Cleary, the fair-haired Wiccan single mother, who tried to help fellow waitress Arlene rid herself of the unborn child she'd conceived with a serial killer. The spell didn't work, but it set the stage for Holly's pivotal role in season four, as she summoned the dead on Halloween night to spirit away the mad medium Marnie before she could kill vampires Eric and Bill.
Bowles is also often recognized for her role as the waitress on Seinfeld, which she landed with the help of her half-sister, Julia Louis-Drefuss. Bowles went on to appear with her big sis on Watching Ellie and The New Adventures of Old Christine, and was cast along with her husband, Patrick Fischler, on an episode of Curb Your Enthusiasm.
These days, the sparks are flying between her True Blood alter ego and Sheriff Andy. After a false start, the two ended up in bed together, got caught by her two teenage sons, and Andy's bare bottom was posted on Facebook. Now they're going steady — but what about Maurella, the fairy that Andy swore allegiance to before having sex with her in the woods? Nothing is ever simple in Bon Temps, and Bowles likes it that way.
I've read that you were a fan of True Blood long before you were cast on it. It must have been exciting to get the audition.
It was so surreal, because beyond just True Blood, I was kind of an Alan Ball fanatic. American Beauty really rocked my world in a way that no movie had up until that point, [and there was] Six Feet Under. So when I heard he was going to be in the room, I completely freaked out. I was like, oh, God! But I thought, this job's too big [and] it's going to go to a name, so my goal was like, okay, just don't screw it up so that they bring you back for a guest spot. That's really it; that was my attitude going in. [laughs] After the audition, by the time I got home, I got the call that I had gotten it. I don't think I can remember the last time I was that shocked. I was over the moon but beyond shocked. It wasn't within my realm of understanding that that could have ever happen.
You got the news as soon as you got home?
It was hilarious! I was just walking into my apartment; my mom was sitting with my then baby girl, who's three now, and my manager called. I assumed he was just calling to see how [it went], and then he literally told me I booked it and I screamed, and my baby looked up and my mom looked at me. It was clearly a happy scream but they kind of looked a little startled and I was like, no, no it's a good scream! And then all was good. It was wild. Wild!

As a fan of the show, what was it like to suddenly be wearing the Merlotte's waitress uniform?
It was the most surreal! The first time I donned the short shorts and the tight Merlotte's tee and I was on set, it was like Dorothy in Oz [or] Alice through the looking glass. I'm pretty used to it now but I still have moments, particularly on the Merlotte's set because it's so iconic for the show. The first time I walked on, I was like, how did I get here? It was amazing. I truly felt like I had to pinch myself. I couldn't quite tell if it was real, that I had arrived and I was working on this show. That was the part that, still to this day, seems surreal to me.
Was it difficult being new kid on the block?
I'm sort of used to it because I've guest spotted on just about every show you can imagine and you're perpetually new kid in school when you do guest spots. You get all the best skinny from hair and makeup people, so on my first day [on True Blood] I was like, okay, so what's everyone like really? Our head make-up artist said, we are so psyched! Everybody is awesome! I'm like, oh come on. And she said no, really. If you're a pain in the ass and get on that show, they have no time for it. It's very easy to kill people off on this show. [laughs] Alan has got a great eye for casting, so in addition to casting talented people, they are all really cool. A lot of New York actors. I started [acting] a while ago back in New York, so Carrie [Preston] and I knew a lot of people in common, and you just start shooting the shit and everyone's just really down-to-earth, chill people. So it made it very easy to be the new kid there.
How did you react when you found out what a pivotal role you were going to play last season?
It was interesting because when I first auditioned for it, it said strong recurring with [option for series regular] for the following year. You hear all of the Internet stuff that the following year was going to be the "year of the witch," so I was sort of fingers-crossed that it would lead there, but you never know. When I got my option picked up I felt so excited. And when I found out that the phenomenal Fiona [Shaw] was going to be playing Marnie, it was icing on the cake. Because I spent my whole year with her, basically; we worked so much together. [Alan Ball] really assembles the most amazing people. And then when you get the writing on top of that, it's like an embarrassment of riches.
Holly really saved the day with her summoning spell that finally defeated Marnie.
At first it seemed like Marnie's the one at the helm here, but I could kind of tell that Holly's Wiccan faith is very much at the core of who she is. But she's still learning a lot, so it was fun to see at the end of the season that she really could go off on her own and take care of business.
What was it like doing all of that intense work with Anna Paquin and Rutina Wesley?
So much fun! I had done a lot with Rutina, more back in Moon Goddess [Emporium], so to get to finish up the season with Anna was just spectacular, because she is such a consummate pro. Someone who's been a child actor, man, it could go either way — that they are so entitled and a nightmare, or you go the way of Dakota Fanning or Jodie Foster or Anna, which is that she is just a consummate pro. She's not spoiled; she's in the trenches with everybody. It just makes working with her such a dream.
Is it strange that you were watching them on TV a couple of years ago and now these people are in your life?
Yeah, I know, that's what's so crazy, about everybody! It really is. You know when it's the most crazy, actually? Now, at this point, I have friendships and relationships with the people, so that part I've grown accustomed to, but where the actor/fan thing really comes into "worlds collide" is when I get the scripts. Of course the actor side of me is like, okay, what does Holly get to do? But the flipside is that I'm as interested in the other stuff, reading it as a fan, and I can't believe where they take stuff! I am really reading it with two minds. My God, it's a dream come true. I'm still waiting for the alarm to go off when I walk on set. Like, okay, fan's infiltrated! Off the set!
When you're shooting a scene like at the end of season four, when you're casting a spell, do you feel the same kind of excitement, personally, as the audience feels when they watch it?
I'd say by the time that we're on set and actually shooting it, I have pretty much got my actor's hat on there and I'm mostly focused on, what's the point of the scene? What are we trying to convey? And figuring out the best way to tell the story, at that point. What's going to make the best show for the fan?
Holly's got a love interest in Sheriff Andy now. Are you enjoying seeing where your character is going this season?
Yes! I don't know how [the writers] do it. You do this year after year, you would think it's very easy to get stale with story lines, especially writing for so many people. But the writers are so incredible about constantly reinventing amazing circumstances for these characters that we know and love to go through, and therefore we learn more about them. We got to really go into Holly's Wiccan world last season, and this year we're getting to know her personally, I would say. Not that her witch-dom — it still comes into play this year — but there is definitely a focus on her family and her love life and that's been great fun. And obviously, working with Chris Bauer. [He] is an absolute dream, dream, partner to play with.
Were you surprised to see that you guys were going to hook up?
Totally! I was talking to one of the writers who had said, hey we're thinking about playing around with this. I think that was last year, and I was like, oh great! Because Chris is just one of those consummate actors. All of the other actors on the set are kind of in awe of him. He's been on a gazillion different shows; he's just such a pro. What's so great about him is that he's nothing like Andy! I mean, nothing! Which, when you get to know him personally, shows you how good he really is. So I was just thrilled to be opposite someone that good.
It looks so far that Andy might have a conflict between you and Maurella, the fairy he pledged allegiance to during his walk in the woods. Do you have any hints about that?
I will give nothing away. Because, being a fan — trust me — you don't want to know, because it's so much fun. All I will say, coyly, is that if you watch the show and you're a True Blood fan, you know things rarely go smoothly in people's love lives. I will leave it at that, that there are absolutely some speed bumps along the way. But what they are, I ain't sayin' nuttin'! [laughs]
Well said.
I know myself well enough, and they give the cast talks. You've got to really be careful! Some people are very good at giving just enough information, but I'm not one of those people, so if I start talking, I'm going to start yakking and I'm going to give away something major, so I just shut it. [laughs] We were huge Lost fans, my husband and I — he's an actor, Patrick Fischler. He did a whole season on Lost and he'd be in the other room, gasping, reading, and I'd be like, shut up! Don't tell me! Say nothing! You think you want to know, but you really don't.
Let's talk a little bit about your beginnings. What was it like seeing your sister [Julia Louis-Dreyfus] come into prominence and then becoming a part of Seinfeld, yourself?
It was interesting because Jules is nine years older than me, so I think I was in seventh grade when she was got her first big break on Saturday Night Live. So I've always known her to be working. So when people are like, is that hard? Is it a competition? It's really not because I've always been so proud that she is my older sister, and so fantastic and successful. And it's something that I've always been used to being there. Seinfeld absolutely took it to the next level, and that was complete, utter nepotism, and her just helping a sister out. I had just moved out here [and] was like, sometimes the waitresses have lines and I can get Larry to get you your SAG card. And then I ended up doing, I think, eight episodes! Larry was awesome and he'd be like, you want to do another? And I was like, um, yeah? [laughs] I think I can tell my babysitting job that I can't show up on Thursday so I can do Seinfeld. Absolutely. It was just such a great training ground, God, being on that show. Just watching the four of them play.
How is it for you to have been a part of iconic moments like giving the finger to George Costanza?
It's so funny because when you do those jobs as an actor, they're so small, they were just these little parts. I didn't really think of myself as a part of it, but I can't tell you how many times people come up to me and are like, "the finger girl!" [laughs] "Big salad to go!" "The English Patient!" All these different episodes where I have a little moment. When you have such a small part, you don't think that people really register it.
Now you and your sister are both on HBO.
I joke that we are the "HBO sisters" now. My husband and I are big TV heads, and with the exception of, like, 30 Rock and Modern Family, almost all of our favorite shows are on cable. In order to really have the freedom to make something good, it just seems like it's on cable — and HBO is the gold standard of that.
You got back into the Larry David fold recently with an episode on Curb Your Enthusiasm.
With Curb that I got to do with my hubby! That was my actual hubby. That was the biggest dream day of work because we live right by where they shoot. Our call time was noon so we got to play with our baby girl in the morning and drive together to work in five minutes. When does that happen? Played with Larry for a couple of hours and we were home by six to give her her dinner. This never happens in this town! So this was, like, total dream day.
Was every take different from the last?
It's a very sort of skeletal arc that they give you, and then they're really open to letting you play. And if they like one thing, they'll be like, that was good, do that again. It's very loosey-goosey but at the same time centered, so you're not completely lost at sea. It is a dream job, I think, those improv shows.
What made you want to be an actor?
When I was 12, I was cast in my first full length play. It was The Man Who Came to Dinner and I got to play Lorraine Sheldon, the very glamorous Broadway actress. I got my first laugh and it was just one of those epiphany moments. I felt the laugh, knew exactly when to come back with just enough time to get my line heard, and I just thought, this is it! I have to find a way to do this for my life. My parents were completely supportive. My mom was like, you're not going to be a child star. [laughs] She wouldn't let me pursue it professionally, but anything educational. Summer camps were all drama related. They sort of said, from 18 you can do what you want, but you've got to get through high school and study, but you can be in as many plays as you want and take as many acting classes. I fought them on that at the time, but I'm so grateful for that, in retrospect. And that was it; when I was 12 my fate was sealed. And I think it also helps that my parents didn't pooh-pooh it, like, "isn't that cute?" They took me very seriously, which I think helped me take myself seriously.
What do you love about what you do?
What I love about it is it truly feels like I'm getting paid to go to recess. I don't know how I hooked up that kind of gig. There's plenty of shit you have to deal with — auditions, the business aspect, and there are many gross aspects of it — but the moment that you get to go do it is like no other. I almost liken it to a drug. [laughs] You get a little addicted. To be able to make your living that way, I just feel so unbelievably grateful. Not a lot of people get paid to do something they love to do so much.