Adina Porter: The Newsroom, True Blood, and Motherhood
BY ANDREW FISH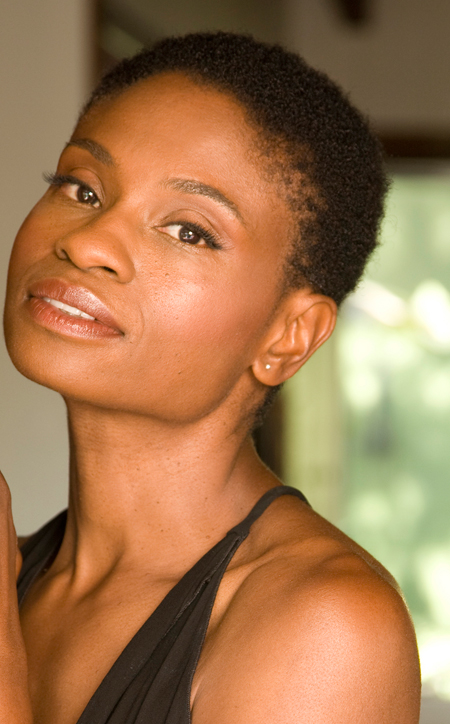 Juggling career and family is a lot easier when you love what you're doing. Heading into its second season, HBO's "The Newsroom" has been controversial since day one, and Adina Porter has been all the more thrilled to be involved as the sparks have flown. Best known for her intense portrayal of Lettie Mae Thornton, the manipulative, sanctimonious, emotionally abusive mother of Tara (Rutina Wesley) on the hot and sultry vampire saga "True Blood," Porter is now happily dedicated to her "Newsroom" supporting character, Kendra James. Following frustrated Republican anchorman Will McAvoy (Jeff Daniels) as he wages media war on the Tea Party and its influence on the GOP, the Aaron Sorkin-created show has spawned prolific debate, with detractors and supporters generating pages of opposing opinions on the message boards — and it's proving to be one of Porter's all-time favorite projects, among the dozens she's appeared on.
When we asked Porter which of her other recent TV roles we might take a look at before our meeting in Toluca Lake, she let us know that with two kids, she rarely watches her television work — besides "The Newsroom" — and has trouble keeping track of which shows she's on. "Thank goodness for IMDB," she wrote in an email. Her portfolio starts in the early '90s and includes "Law & Order," "Brooklyn South," "Judging Amy," "Crossing Jordan," "NYPD Blue," "ER," "CSI," "Prison Break," "American Horror Story," "Grey's Anatomy," "Glee," and "The Vampire Diaries." She appeared in The Peacemaker (1997) starring George Clooney and Nicole Kidman, and About Sunny (2011) alongside Lauren Ambrose. She was also featured in the HBO TV movies "Gia" (1998) with Angelina Jolie, and "Lackawanna Blues" (2005) with Macy Gray, Mos Def, Terrence Howard, and Louis Gossett Jr. Joining the dialogue about the importance of diversity in entertainment, she participated last year in an HBO-sponsored panel at the American Black Film Festival with Sufe Bradshaw ("VEEP"), Michael K. Williams ("The Wire"), Nelsan Ellis ("True Blood"), and JB Smoove ("Curb Your Enthusiasm").
As a familiar on-screen face for two decades, Porter reflects on her niche as a guest star: "There's a part of me that thought, really good actors become series regulars — and then 'Newsroom' came around and I thought, do I want to be a series regular on a show that pays the bills but people won't be talking about years from now, or guest star on a show that I think people will be talking about years from now? I like being a guest star! It's quite a muscle, having to prove yourself over and over again."
Next up is a return to the supernatural backwaters of Bon Temps, where Porter will once again sink into the spiteful fury of "True Blood"'s Lettie Mae and exorcize the stress that her dual life as mom and working professional inevitably brings. Here's what transpires when we meet on a sunny spring morning.
Iconic Interview: Did you have any advantage in getting your role on "The Newsroom" because of your work with Aaron Sorkin on The Social Network?
Adina Porter: It was just a regular audition, except it was on camera at Sony Studios. None of the big shots were in the room; it was really low pressure. And then something like six weeks went by and I get a phone call from my manager saying, "It looks like you're in the running for this." I was like, great! It was [an audition] that you do and you forget about it. Then I'm told by my agents that [co-executive producer] Scott Rudin said, "I want Adina Porter. Why isn't Adina Porter booked yet?" So they were like, "Okay, let's book Adina Porter!" So that's what happened and I'm really glad that Scott Rudin is a fan, and I don't know if it was because of Social Network. Scott's quite a theater person, so I think it's because all the stuff I've done in my life has just added up to this!"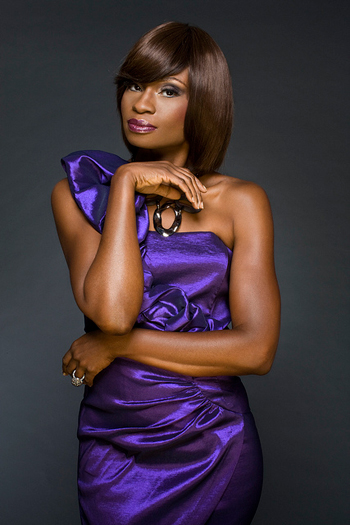 As you started to move forward with the show, did you have an idea that it was going to be controversial?
I guess so, yes, because we're talking about politics. If you're going to talk about politics, then there are going to be folks who are with you and folks that are against you.
When the show first started to air, there was a lot being said for and against it. Is this something that was discussed on set?
There are a lot of theater people on the set, and I think they all got the same note in Acting 101: you don't read reviews. So no, it wasn't like, "Oh, man. Now we're gonna be bummed because everyone is not jumping up and down and loving it." I kind of thought, whoa! Okay, some people want to pull Aaron off his pedestal a little bit, which made me defensive for Aaron, and more excited to be involved with it, because it must mean we're getting under people's skin.
There is just as much positive stuff as negative when you look at all the opinions. It's something people feel strongly about on both sides.
Yes, that's good. If you're going to hate a show, that means it's gotten to you. If you're like, "Eh, I could take or leave it," nobody wants that. That's like saying, "You look nice." You either want to be hot, or you don't ever wear that again. [laughs]
What is it like working with Aaron Sorkin?
I [admit] I'm intimidated by him. There's a part of me that thinks that because I don't have a huge part, that he either doesn't know I exist or thinks, "I've got Jeff Daniels, Jane Fonda, and Sam Waterston to worry about. Adina, who?" Then last season, we were doing some extra scenes to pop in here and there. Everything was done, and we were brought in just for, like, three days to do some extra background work in the newsroom. I'm at the assignment desk and Aaron walks over to me and says, "Welcome home!" He walked away and I just started crying. I said, "Makeup, come over here and fix me up!" He didn't have to say that. It was time for my close-up and I really appreciated that. So if he's just walking by and he doesn't say hi, it's because he's got a thousand things in his head. It's not like, [sighs] "How can I recast her?" [laughs] We would get together at his house to watch the show during the running. "Sundays at Sorkin's," and we'd all barbecue and watch the show and hang out in the pool. Lots of fun! So I think it's a blast working with Aaron Sorkin.
Is the energy on set as intense as Sorkin's trademark fast-paced repartee that we see on screen?
I don't think so. There's a lot of laughter. Sam Waterston's a hoot! There's a little teasing, but if you've got a big monologue and you nail it on the spot, people cheer. If you've got one line and you take one take to do it, people cheer. So that kind of laughter and that kind of stuff goes on. So, I think it's relaxed. And also, we're professionals, so we'll run our lines and everything before the cameras start running, because that's the big deal. You do all that stuff beforehand. There's a lot of socializing outside of work. People talked about going to a Dodger game this week. There are some people who go to the same church together — I'm talking about crew members and actors — or go on a hike. Some of the crew and some of the actors went out to Joshua Tree to go camping for two days. There's a lot of camaraderie.
In talking to people on various shows, I've found that that kind of camaraderie usually stems from the person who created the show and assembled the group of people.
I wouldn't be surprised by that. I appreciate Sorkin opening his home and all of us coming over. At one party, he had a masseuse there so you can go over and get a little massage. I was like, "Wow. Sorkin, you're too good to us!" He goes, "You're good to the show." I thought that was sweet. It's not just the cast members; it's the cast members and our spouses. And I bring some baby clothes and pass them down to Wynn [Everett, who plays Tamara Hart], who just had a baby, and I also pass them down to [someone in] craft services, who just had a grandson. It's a nice, warm community. It's a good group of people, and I know that's not always the case. As a guest star, I work on a lot of shows, and I've worked on shows where people have read too many reviews about themselves and behave in ways that are just not necessary. And the crew feels it, and I think the shows don't last as long.
Do you enjoy working with Emily Mortimer and Jeff Daniels as well?
Oh, yeah! Emily and I are trying to work it out so our kids can have a play date there. People do bring their kids to set. Jeff's son was on set for a while this season, and Wynn Everett, she has a little girl who comes during the break. I've never brought my children or my family on a set; I just always thought that that was unprofessional or something, but I'm going to do it this time. I've just got to figure out when. Emily and I both talked about how work is hard, but being a mom is harder. So if you get out in time to have dinner with your kids or put your kids to bed, as soon as you walk in the door and drop your bags, you don't have time to take off your makeup. You're on! [laughs] Because you haven't been there all day. If you get home at 7 o'clock, you're taking your makeup off at 11 o'clock once everybody is in bed. And it's tough!
The other day, my character was sitting away from the table, and every other character was around the table. It just was the way the assistant director assigned people for this particular group shot. Jeff Daniels comes over to me and goes, "Why are you sitting there?" I said, "Because that's where I was told to sit." He goes, "No, you sit there," and he points to the seat where he is supposed to be sitting. I said "No, because the director wants you to sit there." So then we do the blocking rehearsal, and when we come back to shoot it, all of a sudden, I'm sitting at the table. I said to Jeff, in between shots, "Did you say something? How come I'm sitting at the table?" He goes, "I didn't demand anything. I just asked the question — four times." [laughs] Also in that particular scene, there was a background [actor] who was at the table, and Jeff does a movement that involves the background actor in the scene, so the camera then has to go to the background actor. That's just generosity! He doesn't have to do that. I appreciate that, but it also helps, because we're supposed to be this news team that works together — so you can either fake it or you can make it happen for real. He knows what it's like being a theater actor, to give and take. That's lovely, and I thanked him for it.
That's a great story.
It is pretty great — unlike other shows. If you're driving to set, there are some shows — "True Blood" is not one of them and "Newsroom" is not one of them — where you sit in the van depending on where you are on the call sheet. So that you would never, ever sit in the [front] passenger seat, because that's for the series regulars. Already, that little silliness affects how you feel about being part of the show.
What can you tell us about the upcoming season of "Newsroom"?
I'll just say that I cry at table reads. There was one table read where I was at the edge of my seat. I thought, okay, we've turned into a thriller. It's pilot season when we're doing all this, and my agents are sending me out on stuff, and I'm being pinned for stuff, and then after a table read, I'll write my manager, "This is the best show on television!" I want to be part of this. I'm excited by it.
And what about the upcoming season of "True Blood"?
I don't know! They just called me in for the next episode.
So, something will happen with Lettie Mae towards the end of the season? Do you know what it is?
No! I don't know. That's how I am with "True Blood." In the first season, I would ask other people, "Am I in this script?" This one, I just wait for the phone call. So the phone calls come and now it's all about making sure that I can try to do both shows.
What has it been like to be involved in a show like "True Blood" with such a devoted fan base? What kind of adventures have you had because of it?
I get these looks, where people are like, "Did we go to high school together?" Then they have the realization that I'm Tara's mother, and it's like, "Oh!" It's fun. It helps sometimes at the airport. [laughs] Getting through security; maybe I don't get profiled as much as I used to. [Some people say], "Wow, you look so much better in real life." But maybe I'm projecting. Maybe every once in a while, someone is smiling at me and it's because they think I'm an attractive person, and it's not because of Lettie Mae. Or it might be some other show that I've done. So I kind of project sometimes and I want to make people feel at ease. So I go, "Hi!" as they're staring at me. "It's okay, how are you!" And they might think, "Why are you talking to me? I don't know you. I just think your kid is cute." [laughs]
When you come back to work on "True Blood," is it like going back home?
It's lovely, yes! Home… "Newsroom" really feels like home. I kind of get a little nervous if I'm not there for a while. Like, "I've got to get back!" But [on "True Blood"], it's like, "Hey! Adina's back! Lettie Mae's back!" So yes, it feels comfortable. Once I was there and I was being a little picky, and I said, "Where's my seat-back? I've got a seat-back! I don't wanna be just a guest star, come on!" [laughs] And they found it!
Do you get a familiar feeling when they put you in one of those dresses and you sink back into that rough character?
Yes. Last season, I was enjoying myself on "Newsroom" and I remember calling up my manager and going, "I feel like chewing up some scenery. Come on, let's see if 'True Blood' needs me!"
You have two kids?
I have two; I have a six year old and a two-and-a-half year old.
You adopted both of them?
I built my family through adoption — both of my children.
Was it through the same organization each time?
No, different organizations. The first time was with Adoption Network Law Center. That one is run by lawyers. We didn't do a lot of research. A friend of ours said we should go there. It was in Orange County and it was an experience where the lawyers do everything, and then you get a phone call from the agency when you're matched, and you can say yea or nay. We had signed up in December to be part of this adoption agency, and three months later, I'm working on "House" and I get a phone call from my husband. I just so happened to be in the trailer at the time, and he says, "We just got a phone call from the agency. A baby is being induced on Saturday" — it was Wednesday — "and we have until tomorrow to make our decision, whether or not we want to move forward or not. I'm feeling really good about this. Can you make yourself available so that you can talk to the birth mother to see if it's a good match?" And I go, "Okay!" The person was in another state, so that we could coordinate this three-way phone call. We talk on the phone with this young teenage girl, and at the end of the 45-minute conversation, my husband and I talk again and we think we want to move forward. So it's gone from an ordinary Wednesday to a huge, life-changing Wednesday. On Friday, my husband had left to go to Ohio so that he could be there and meet the birth family. I'm working, and I have to tell someone. So I tell the makeup artist what's happening. When you tell the makeup artist something, word gets out. [laughs] She talks to the producers. The producers changed the schedule so that I could get my scenes done on time, so I could catch a flight to Ohio, so I could get there for the birth of my son. I'm not a recurring guest star; I'm a guest star — but I found out that two of the producers also have built their families through adoption. And also Hugh Laurie, I think, pulled some strings. So after I finished the scene, the producer comes out and gives me this list of things that I'm going to need. You need to go to the Pump Station to get a sling, if you need a night nurse, all this information. So incredibly sweet. I arrived at the hospital an hour before my son was born. I wasn't supposed to be in the [birthing] room, but I was sitting there in the waiting room, and the birth mother's mother came out and said, "Would you like to join us inside?" I said I would be honored. She took my hand — this is a woman I had never met before — and we went into the birthing room. She and I held hands behind the birth mother's head and we all breathed and helped push Jack out into the world, and I got to hold him first. And that's how my baby boy came into the world.
I just finished working with ["House" creator] David Shore on a pilot, and I wanted to go up to him and say, "Do you know what 'House' did for me six years ago?" But I never had that private moment where I could do that. I'm always thankful that "House" was sweet enough to change the schedule around so I could be there for my son's birth.
Tell us about the theater work you have done in New York.
Early on, I did regional theater. I think the biggest regional theater I did was Hartford Stage.
Was television and film your goal at the time?
No, my goal was just to continue working, wherever I can. My agent called one day when I was doing Williamstown and said, "We think it's time for you to go out to L.A." So I said, okay. I thought I was supposed to be out here only for a year, and it's been a [while] now.
When did you decide that this is what you wanted to do with your life?
It's what I've always wanted to do, ever since I was a little girl. I don't know why. A guidance counselor at my junior high school told me about La Guardia School for the Arts, so I went there. I just kind of followed their path, and that's the path I've been on so far.
What do you love about what you do?
The first thought that comes into my head is I love getting into the psychology of why people do what they do, and then trying to bring it to life. I love that I don't have a regular schedule. Sometimes I love that; sometimes I'm envious of people when they fill out their loan applications, that they know exactly what to write down, because there's your W-2! [laughs] Instead of this crazy mishmash. But then when the downturn happened, it was kind of surprising to me to hear about people who had lost their jobs, and they had lost their identity, and they don't know who they are, so I'm glad that that muscle was developed in me, because you never know when your next job is. My husband, who is not an actor, said to me about some job I didn't get [for a] pilot this season, "Well, you can't get your self esteem from your job." And I said, "I taught you that!" He reminded me of that, so I'm glad that I have that muscle.
True Blood premieres on June 16th and The Newsroom on July 14th, both on HBO.