New Ground: Serj Tankian on His Symphony, Jazz Fusion Record, and Moving Forward with System of a Down
BY ANDREW FISH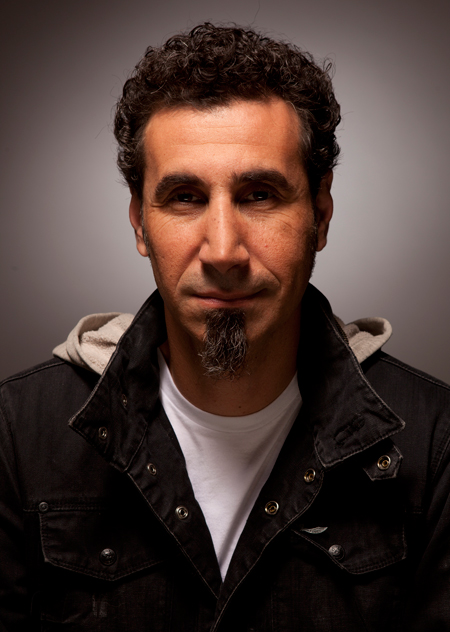 There's a chill I get sometimes when I know I've dug too far into someone's work or philosophy during an interview, a silent request to change the topic before things get weird. I've never felt that with Serj Tankian, no matter what I've ever asked him, which is one of the reasons I was looking forward to talking with him again. He's basically the ideal subject — friendly and articulate with a seemingly bottomless aptitude for detail — so when I learned I'd be connecting with him about his full-orchestra album and new jazz record, I knew I wouldn't have to hold back.
Known for his high-decibel, borderline operatic vocals, Tankian has been taking some creative quiet time, at least in a relative sense. Even as he's back to rocking live with System of a Down, his two latest solo projects are comparatively low-key. Released this month is Orca, his first symphony, recorded at Brucknerhaus in Linz, Austria, and in July comes Jazz-iz Christ, a wide-net jazz fusion project — both featuring elements of traditional Armenian melodies. Meticulously assembled and packed with guts and pathos, the albums come through as musical meditations with a subtle brand of buildup and climax. Orca's full orchestra lays out a grand narrative leading up to a heart-wrenching piece played on the duduk, a traditional Armenian reed instrument, while Jazz-iz Christ injects electro-pop, dance-hall synth, '70s vibe, and classical into old-school jazz. Check out this "Waitomo Caves" track for some serious funk and one of the truly dopest distorted flute solos. Tankian has set himself free and you can feel it.
The multi-genre musician and singer will tour with System of a Down in late July and August and then take his symphony through Europe in September. And as every Tankian fan is anxious for work to begin on a new SOAD album, I have it on good authority that patience will pay off.  After our interview, I sent him a note to clarify — does he see himself committing to a new System record at some point? The answer I received was "Yes."
I spoke with Tankian just before summer set in.
Iconic Interview: How do you begin putting together a symphony? Take us through the process.
Serj Tankian: Like all great discoveries, it starts by accident. I had started working on Imperfect Harmonies, and I was writing these long piano diatribes and fleshing them out into songs. With one or two of the pieces, they were just so long and so melodic that I couldn't envision adding vocals to them, so I had put them aside. At first, I thought these would be great at the end of a record, just listening to these long two pieces. I was in New Zealand at the time and a good friend of mine was over, having a beer and checking out music that I had written — just fresh off the press kind of thing — and he's like, "Bro! These are the first two acts of your symphony." It hadn't even crossed my mind. And I shit you not, I Wikipedia'ed "symphony" to see how many of these acts I would need. [laughs] I'm like, wow, you need four acts, roughly about ten minutes each. I could do this! So I put them aside and worked on other music that could complement it, or other ideas that were symphonic. The first instrumentation is piano in all cases, and then I basically work on the celli, bass, viola, violin one, violin two, brass, percussion, in that exact order — and then add on other instruments we might need. At first I did an original demo and then I refined the demo with tempo changes and modulations here and there to add things that I wanted to it. I reviewed it many times and adjusted it and modified it. Then, when I was happy with the final demo results, we went and scored the whole thing. I have an arranger and I sat down with him and gave him all the material and he basically notated everything. At that point, once we had an orchestra to record it live in Austria, we went in and worked with the conductor. We sent him the score, made some other adjustments, rehearsed the orchestra for a few days, and recorded it! We did a live show; that's what we will be hearing as the final result.
Did you have people playing the instruments for you on the demo, or were you synthesizing it?
I was playing them myself using piano, sample strings, sample brass, sample percussion, and just basically tamping everything that way. Then with the second variation of demos, we started using other samples, better samples, and more modulations and tempo changes, which my arranger does really well with me. I've done all the original demos of all of the different layers of the music.
Tell us what you mean by samples of these instruments.
There are all these incredible sample libraries of recorded "sampled" strings — amazing ones — and sampled brass. You basically play it on the keyboard and it sounds like that particular instrument, and you're playing what that instrument supposed to play. So all our demos are sampled studio versions, but the record itself is a live, played orchestra version.
You've released three albums in the past year and you're touring with three bands — FCC, your full orchestra, and System of a Down. How do you get so much done?
To be fair, I started working on Orca quite a while ago so it's kind of come together over time. The jazz stuff — I've written a lot of the songs that I've refined and worked on with live players over the last couple of years. Both of the records we're releasing this month have been finished for over a year or a year and a half. I was waiting to release them because I was releasing Harakiri, and I didn't want to release three records at once! So, I don't know. When I'm working, I'm working. I get a lot done quickly, I guess. I don't know how to explain it. I just love doing different forms of art and different forms of music. It all works together; it's all the same for me, whether I'm working on a rock song or part of a symphony or a jazz tune. They have different sensibilities and different dynamics, of course, and they portray different messages, but it's all just playing music.
Take us through a typical day when you're working on an album.
The busiest time was when I was actually working on all three at once – Harakiri, Orca, and Jazz-iz Christ — because I'd be in the studio all day. Let's say I'd sent a song out to the flautist in Switzerland to add some flutes. I'd be working on Harakiri and I'd get an email saying, "I uploaded the flute solo to your Dropbox." So I take a break from the Harakiri song, download the flute solo, throw it into the jazz track, balance it, see where it's sitting, make some changes, and go back to the Harakiri track — that kind of a thing. It's kind of like when you are sitting in front of your laptop and you're writing. When you're in that mind-frame of writing, I'm sure that no matter what the thing is you're focused on and writing about, other ideas and stuff pop out. Let's say you're writing an article, but at the same time you're working on a book, and while researching for the article, bam! You come across something that's really for your book. So you close your Word document, or whatever you use, and you jump to the other one, and you make some notes or do something to benefit the other project. Because your mind is not segmented like genres of music on the radio. It's open. As an artist, as a writer, as a musician — whatever your moniker of choice — it all comes from the same source.
What is the instrument you're using in the final act of Orca? It sounds like a human voice.
That is an Armenian duduk. It's a traditional Armenian instrument. It's a reed and it is a very traditionally sad instrument in terms of the vibe that it portrays. The duduk has successfully portrayed the depth of sadness of 600 years of semi-slavery of the Armenian people under the Ottoman Empire. It is a very popular instrument now, like you [saw] in the film Gladiator, for example. In the beginning of Gladiator when Russell Crowe is walking through the fields, you hear the duduk. It's used a lot in films now. I decided to use the duduk in a very non-traditional sense. It's usually accompanied by other ethnic instruments, Armenian instruments and whatnot; I decided to use it as a solo instrument with a full backing orchestra. I have a duduk sample as well that's really a great one, so I wrote it using a duduk sample and it was played live by an amazing duduk player that we hired who came in from Armenia to Linz to perform, named Vardan Grigoryan. He did a great job. I remember looking at the audience while the orchestra was playing act four, and it was an amazing thing to behold. They were either just stunned by the sound of it — because it filled the room and it was incredible — and some of them who I talked to afterwards told me they thought it was from space or something. It felt so otherworldly.
Did you feel a real sense of freedom when putting Jazz-iz Christ together, knowing that you could literally do anything you wanted, musically.
Sure! I kind of feel like that when I do any record, really. I think that Jazz-iz Christ is definitely the widest interpretation of [a genre] for one record, compared to Orca, or to Harakiri as a rock record, if you want to call it that. I think it spans the wide margin between progressive jazz, acid jazz, electronic jazz, classic jazz, lyrical, and non-lyrical on one record. I am mostly referring to the instrumentation when I even call it jazz. I don't know what I'm doing, man — I'm making music! However it comes out is how it comes out. [laughs]
So you don't get caught up in restrictions or lack thereof? You just let the music come out?
Absolutely. Do I think that jazz purists are going to like Jazz-iz Christ? Probably not. Do I think that classical purists are going to like Orca? I don't know; probably not. A lot of purists don't like people entering their territory uninvited from a different space of music, I've noticed. It's kind of interesting. Years ago, I had put out a remix song of a Miles Davis/Charlie Parker track that I was asked to do by Savoy Records. We did a song called "Bird of Paradise"; we remixed it and called it "Gone". It was a really great remix record called Bird Up. At the time, everybody who had done remixes — and there were some really great ones — got nailed by jazz magazine writers, by saying, how dare you do this to Charlie Parker's tracks? I've read Miles Davis' autobiography; if there was anyone to do that kind of shit, it would be Charlie Parker, himself! He was an improvisational guy. He would go off! These guys didn't have limits, and here are these jazz writers writing about — how dare we, how dare we not, and placing limits on us as artists and musicians. So it's also kind of a reaction to that, in saying, if you're going to bash this [movement], then start with this! So, we'll see how it goes. [laughs]
Did you have specific narratives in mind when you put these jazz tracks together?
Yes and no. Again, they're quite open. The way that I named them, obviously they all had different working titles to begin with than their final titles. I was trying to see what this animal is — each of the tracks — and what it reminds me of. There's one called "Yerevan to Paris" because it's got a lot of Parisian jazz, almost like St. Germain electro/live instrumentation, but also these amazing Armenian melodies played by Tigran Hamasyan and Valeri Tolstov — one on piano and one on flute — and it's just like … wow! A really cool hybrid of these two different vibes — and beyond, of course — so it made me think of "Yerevan to Paris". It's the kind of thing where you look at the song and go, what are you? Who are you? What should I call you? More of that than necessarily a full story behind each, or anything like that. Except for "Miso Soup," for example. [laughs] The ones with lyrics are definitely more defined, as they would be, naturally.
When I first wrote about you some years back, I mentioned that the "grand crescendo" was one of your music's defining elements. On these two albums, you seem to be eschewing that kind of cathartic arc in favor of quiet exploration. What are your thoughts on that?
There are moments, I would say, on both records. I'll start with Orca — there are moments of this real, incredible vulnerability in the music, this unexplainable sadness that I could have never achieved with any other genre of music. Some of the quiet moments make me think of that. With Jazz-iz Christ, it makes me think of the song "Distant Thing," because it's an incredible visual of being in this jazz club room where all the instruments are playing together and you just feel this depth, this darkness, and this beauty at the same time, you know? Yeah, quiet exploration. It's not going 100 miles an hour like Harakiri would, not that there aren't moments of quietude there. But it's definitely tamed down and taking the time to say what it's going to say, whatever that may be.
In Jazz-iz Christ as well as Orca, you've shifted from a focus on ideas and political and social issues — as in Imperfect Harmonies, Harakiri and with System of a Down — to a purely emotional landscape. What has it been like for you to take the focus off the cerebral elements and delve into the raw emotion?
That's interesting. I didn't think of it that way; thanks for pointing that out. So much more can be said with music, sometimes, than with words. Words do a great job at limiting and defining things and focusing on things, but sometimes the emotion is better portrayed through the actual music than the words. It's definitely more of an emotional realm being explored in both records.
I read an interview in which you discussed issues you've had with anxiety. How did you work through that period of your life?
There have been times in my life when I've had a lot of anxiety, of course, as I'm sure everyone has had, and trying to find peace within yourself, and slow down your mind and all of that. Learning meditation throughout the years — practicing it — that's been helpful. Music is also an amazing form of that. Well, music can be both, actually! Music can be this great embrace of the present moment. When you're working on music, when you're writing music, it's the only thing happening. You're opening up to whatever muse that you're drawing from. It's a very focused thing, and that focus is actually peaceful. It could be tiring, obviously, especially if you're in the studio for 14 hours, but the process itself, because you're not thinking about anything else, your mind is so focused on this one thing. It's actually a spiritual practice, which is why you see guys like Ravi Shankar who play their instrument their whole life. When they play, they're not just playing a concert; they're kind of tuning the room and then starting on this journey. It's an amazing thing in that way. Music could also be an enemy. [laughs] I've been reading this book called Musicophilia — I've got it next to my bed downstairs. It's by [neurologist Oliver Sacks], who loves music, and it talks about people with different syndromes and disabilities that [relate to] music. There are all these really interesting things that happen with music and the mind. When I'm working on a record, if I work on music really late into the night, it's common that I may not sleep for another four or five hours because music is still running through your system. That song, that piece, whatever it is, and it just does not let you go. It haunts you until you're free of it. There's a syndrome named after this, actually, that certain people can't listen to a certain type of music because it repeats so incessantly in their minds that they can't let go of it. It's an interesting thing.
One might experience that same syndrome differently if it were a piece of music you were actively creating.
True, when you're creating it, it's actually helpful to have it looping through your head because what it helps you do is better orchestrate and arrange what you're working on. Because every time it plays over, you think of another idea to add to it or something like that. That's very common when I'm working on music.
I've found in my own life that the best way to deal with anxiety and the constant activity of the brain is to keep creating and building.
Yes, absolutely — or stopping. Just stopping everything, turning everything off, and just taking a breath, focusing either on the breath, or a tree, or something, and just realizing your surroundings and going, "I don't have to be thinking right now." Let the thoughts come and go. But, yes, being creative does help that. And when you're a creative person like we are, it's also our journey, our path. So any time, I think, that we're on that path, walking that path, the universe kind of pushes us; it gives us a lift. It helps us with whatever the dilemma is that we're dealing with.
My favorite track on Jazz-iz-Christ is "Balcony Chats." The flute is really beautiful.
Really, wow. That was actually the last track I worked on with my friend Valeri Tolstov. He was in town and staying here and we would just sit on the balcony and have these long chats about many, many things — music and art and philosophy — and then we'd go into the studio and work on something. That song is something that came out of that. He's half Russian, half Armenian — a good friend of mine. Dude, all those solos are distorted flute solos; there are no guitar solos on the record. He's badass; he wants to rock! He's this classically trained, incredible flautist that also plays a bunch of different instruments, but he's always rocking. He'll do his flute stuff and then he'll hit the distortion pedal and go off. I'm like, what the fuck? [laughs]
The album has introduced me to two other artists — the late Armenian priest, singer, and musical scholar Komitas Vardapet, and jazz pianist Tigran Hamasyan.
[Tigran is] amazing. He's got a very subtle touch. He's put out three or four of his own records and they're really good. He's got good taste as to how to do things as well. He really added a lot of cool rhythmic elements to the songs. That Komitas song ["Garuna"] that he played is beautiful.
What I especially like about what Komitas has to say in that song is his statement to his enemies, that he wants their tongues to dry up.
[laughs] In Armenian, it is literally "tongues dry up," but it also means to shut them up.
I like that he's not wishing anything violent; he just wants them to stop talking.
I had posted that song right after the recent Armenian elections, early on this year, which were rigged and typically post-Soviet, unfortunately. There was a huge movement for democracy with people in the square, and I posted that song and dedicated it to those people trying to make positive change in that country. Because it's a Komitas song in Armenia, it's such an emotional song and it talks about spring but it's snowing — it's heavy. It's very subtle, lyrically, but it's very powerful.
Jazz is based, I think, on imperfection and the odd note. Is that what draws you to it? I'm curious about your thoughts on imperfection.
You're right; I never thought about it that way, though. Jazz, to me, is an improvisational genre. It's what you want to make it. It's technically designed as such. Yes, there are imperfections, but to me the beautiful thing is the moment — jazz is a music of the moment.
We've talked a lot about connections and interconnections in the past. Is that something you have particularly enjoyed about these two projects — connecting with a full orchestra and connecting with the people you collaborated with on the jazz record?
Absolutely, but it's not just connecting with that; it's also connecting with a different type of music and having different rules than you've had in the past. The emotions coming out of "Waitomo Caves," you can't do that on the Harakiri record. "Distant Thing," you can't do that on Orca. There's a moment in act one at about six minutes, if I'm not mistaken, where it breaks down to a point where you hear the single cello with a couple of chords of the piano. That's my favorite moment, because it's so vulnerable, it's so powerful, it's so heavy. During my first demos when we were working on that, at that moment, my eyes would always water up, and I'm like, what the fuck? Why is it doing this to me? I would ask myself, why is that moment of this piece, without lyrics, without a context of what this actually means, doing this to me? To me, that's the beautiful thing about being able to do this. As an artist, I'm very, very lucky that I can introduce different speaking patterns, those emotions, that I haven't been able to in the past. Granted, if I wanted to go for a giant-selling market, I'd make a pop record, right? [laughs] I'm making a symphony record and a jazz record for God's sake, when they're not too well appreciated. I'm doing it because I love it. I love doing it all, and experiencing being able to speak in those languages, and connecting with those different emotions.
It sounds like there has been some tension recently regarding System of a Down and whether you guys will make another album. When you get together to play later this summer, do you foresee that you will need to clear the air before you start working together again?
To start with, what happened, happened. Let's put it this way — I think most people agree that the way that the news came out of what's going on with the record wasn't the most positive way of doing it. [laughs] But since then, I've explained on my end what's been going on, and that's put things into perspective. But, you know, everyone has their own life; everyone has their own decisions to make. Before we play together, we'll definitely share a coffee and have a conversation about it; that's not an issue. I do communicate with John [Dolmayan] often. Everyone can make what they want out of it, but in the end, it is what it is, you know? Everyone has different expectations and what they want to accomplish, and the problem is you need each other to do it together, and everyone's got to be on the same page. You can't say, "I want to do it now, so I'm angry." Everyone's got to want to do it together at that time, for whatever reason. And that's how a band works; otherwise, it's not a band. Otherwise, it's not a partnership … The band made its position very clear pretty quickly as to what the band thinks, overall, and I stand with that.
Your dad put out an album a little while ago [Khatchadour Tankian's Inchbes Moranank]. What has that been like to help your father express himself musically and as an artist?
A very, incredibly rewarding feeling. I was over there a few hours ago; I had some lunch with my parents and brother, and I had to leave to pick up my car from the dealership and my brother goes, "Hey, before we leave, Dad, why don't you play us something?" So my dad sat down. He's not just a singer; he also plays the oud. So he started just jamming and playing and I closed my eyes and I let my head dip, and I was in that position for five minutes and it was the most peace I'd had all day. Then I hugged him and left. It's what he loves to do. He's always loved music and he never thought he could make a living doing that, so he studied to be a designer. He was designing and manufacturing shoes pretty much his whole life. So when he retired, he started doing music because that's what he loves. It was a very rewarding experience working with my dad, putting the record out ourselves, and hearing people's responses. My dad loves YouTube. [laughs] He's 77; he didn't know what it was before, but we did this video of one of his songs on his record. He checks out the hits every day. He's like, "Son, today it was 'x' number more!" It's really cool, man! It's being able to share this with him — look, when I was going through tough times in my 20s, I knew I wanted to do music, but it's a tough career choice, financially. I had a college education and I had a software company that was doing well, and I sat down with him one day and I said, the software business is doing well but I really want to do music. I don't know what to do; I'm a little confused. I want to do the right thing for us, our family, financially, but I also don't want to regret any decisions. I know I'm young and I don't want to be looking at this 20 years later and saying, I should have done that. And he looked at me and he said, "Do music. If I have to get another job, I will. Don't cheat on your career; don't cheat on your life. Don't do this to yourself now." He gave me the strength and power and the confidence to go, "Fuck it, I'm doing this." I will always be grateful for that. I don't think I'd be here if I didn't have that support from my parents.
And you were able to use what he gave you to give something back to him.
Exactly. It felt like, dude, I owe you big-time! Let me at least help you do this.
What are you really looking forward to right now.
A beer? [laughs] It's what? Almost 7 o'clock on a nice Southern California day, kind of warm. Yeah, that would be my answer.
And how is married life?
It's good, bro. It's good. Very comforting. We've been together for a long time, but it was a step that made things kind of settle down even more. So, I'm happy.
Orca is now available and Jazz-iz Christ drops July 23. For more information, visit serjtankian.com or serjicalstrike.com
More interviews with Serj Tankian:
Interconnected Melodies: Serj Tankian on Harakiri, Social Change, and System of a Down – Iconic Interview, October 2012
Serj Tankian: The Manic Maestro's Epic Symphony – Venice Magazine, March 2010