BY ANDREW FISH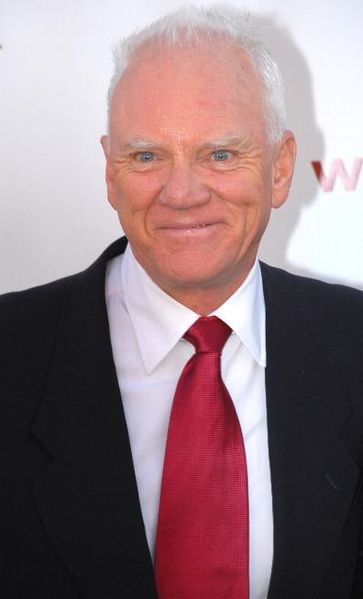 Interview conducted for Venice Magazine
With his blue-eyed gaze and air of perpetual amusement, Malcolm McDowell has been captivating audiences for over four decades. His charisma and intensity strike a cultural nerve, tickling the imagination of everyone suspicious of the status quo. The actor's first subversive triumph came in 1968 with his role as a percolating revolutionary at a boarding school in Lindsay Anderson's If…. Ending his character's scholastic career with gunfire and a devilish grin, the young star caught the attention of Stanley Kubrick, who cast him in A Clockwork Orange. McDowell's portrayal of the sociopathic Alex in the 1971 classic was an incendiary moment in film history. Opinion of the film was so split that it was nominated for four Academy Awards and banned in Britain for 27 years. Whether glorification of brutality or commentary on crime and free will, A Clockwork Orange created a whole genre of pop-culture art, fashion, and philosophy. His bowler hat, single eyelash, future-British slang, and carefree love of ultraviolence and Beethoven, lifted McDowell to iconic status, and he's continued to earn it ever since.
Anderson, whom McDowell had come to consider a mentor, tapped him again to star in O Lucky Man! (1973), a sweeping, surreal journey through every nook and plateau of British society — a film that didn't stop for a second and never looked back. He completed Anderson's trilogy with the black comedy Britannia Hospital in 1982. He played a World War I fighter pilot in Aces High (1976), whose smirk and swagger masked a pain that was turning him to drink. McDowell flipped the industry's lid as the title character in Caligula (1979), the violent and sexually explicit tale of Roman Emperor Gaius Caesar Germanicus, produced by Penthouse magazine publisher, Bob Guccione. That same year, he starred in Time After Time as author H.G. Wells, who traveled to then-present-day San Francisco in pursuit of Jack the Ripper and fell in love with a bank employee played by Mary Steenburgen. McDowell and Steenburgen married shortly after and remained together for 10 years. He performed alongside Nastassja Kinski and John Heard in the darkly erotic Cat People (1982) and cut loose as Reggie Wanker, an outrageous parody of Mick Jagger, in the psychedelic rock & roll sendup/love letter, Get Crazy (1983).
McDowell worked relentlessly through the 1990s and 2000s. He became a go-to bad guy, yet punctuated his portfolio with the unexpected. Amid his roles in 1990 as an interplanetary saboteur in Roland Emmerich's Moon 44 and a high-school principal who installed killer-robot teachers in Class of 1999, he played humanitarian and Nobel Peace Prize-winner Albert Schweitzer in Schweitzer. He also appeared as an antagonistic police chief in the Danny Glover-starring Bopha! (1993), Morgan Freeman's directorial debut. He played himself in Robert Altman's The Player (1992), and teamed up with the auteur once more as the director of the Joffrey Ballet of Chicago in The Company (2003), co-starring Neve Campbell. He's affectionately infamous among Trekkers as Dr. Tolian Soran, the man who killed Captain Kirk in Star Trek: Generations (1994), and he had a go at situation comedy as a stuffy professor on "Pearl" with Rhea Perlman (1996-1997). McDowell took on the role of Mr. Roarke, previously inhabited by Ricardo Montalbán, in the updated "Fantasy Island" (1998-1999). He ascended by any means necessary as a ruthless, foulmouthed heavy in Gangster No. 1 (2000) alongside Paul Bettany, and probed the mind of Michael Myers' as psychologist Sam Loomis in Rob Zombie's redux of Halloween I and II (2007 and 2009). With numerous stage credits to his name, McDowell brought his one-man tribute to Anderson, "Never Apologize," to London and Edinburgh. The performance, as well as a wealth of archival footage, was released on DVD in 2007.
It was at a screening of Gangster No. 1 that McDowell met director Tamar Simon Hoffs, who cast him as the patriarch of an endearingly confrontational Irish family in Red Roses and Petrol (2003). "She gets her own way by charm," McDowell beams, "and she's got bags of it." Their followup collaboration is Pound of Flesh, co-starring Timothy Bottoms, which sees McDowell as Noah Melville, a college professor with an infectious enthusiasm for languages and Shakespeare. By night, he sends female students out as escorts to pay for their tuition. Everything's going fine until a young woman is killed and Melville's life and delusions of altruism begin to collapse.
Having gotten his start on the small screen with guest roles on shows like "Crossroads" (1964), "Z Cars" (1967), and "The Newcomers" (1967), McDowell is still a familiar face on television. On NBC's "Heroes" (2007-2008) he played Daniel Linderman, a powerful and ruthless businessman with the ability to heal the sick and injured. On HBO's "Entourage" (2005-2011) his character's mentorship, split, and reconciliation with Ari Fleischer (Jeremy Piven) gave a look into the bad blood and pathos behind a Hollywood changing of the guard. (McDowell tells us he's been approached to reprise the character in the proposed "Entourage" film, and that he's keen to do it.) On TNT's comedy "Franklin & Bash, McDowell plays Stanton Infeld, senior partner and eccentric patriarch at a major Los Angeles law office, who hires a couple of rambunctious young lawyers (Breckin Meyer and Mark-Paul Gosselaar) to jump-start the firm's mojo. Always up for some fun, the English thespian lends his voice to animated characters like Vater Orlaag on Adult Swim's "Metalocalypse" and Grandpa Fletcher on Disney Channel's "Phineas and Ferb." Animated versions of "Batman," "Superman," and "Spider-Man" have also featured McDowell's unmistakable cadence.
With eight current and upcoming films, by his count, McDowell clues us in on his role as a producer in L.A., I Hate You. "There was a very funny scene in it," he smiles, "where I say to this young actor, 'Would you kill for the part?' And he goes, 'Well, yeah.' And I went, 'No, no, no. Would you kill for the part?'" Recently released was Suing the Devil with Tom Sizemore and McDowell's "good mate," Corbin Bernsen. "I was determined to do it because it was such a wonderful part, to play the devil," he says. McDowell is especially looking forward to Monster Butler. "It's such an incredible part," he relates. "It's a great script written by a dear friend, Peter Bellwood, and it's based on a true story of this con man, who was a Scot, who in his late or middle 50s becomes a serial killer and kills five people in as many months. The thing about this character is he could have been a captain of industry, a politician, or whatever he wanted to be. It's just that at some point in his life, he went this way when everybody else goes that way. He's incorrigible and you can't help but love him, but then, of course, he turns into a cold-hearted killer. But it's funny. It's a black comedy. This is what Warner [Bros.] said to me: 'It's Clockwork Orange 40 years on!'"
A family of deer crosses the dirt trail as we drive toward McDowell's home near Santa Barbara. He greets us warmly as we enter a living room that's decked in eclectic finds. He offers some Perrier only to find that his kids have snagged the last of it. "They all drink the stuff like it's coming out of the tap," he calls from the kitchen. As we sit down, we hear woodpeckers tapping on the roof. The sound is ominous yet somehow comforting. The scene is set. The following interview took place in September 2011.
You've played many characters who diverge from the norm.
Malcolm McDowell: You mean I play a lot of oddballs? [laughs] Of course I do. I mean, listen, I'm not here to deny it. I've often played a lot of strange people, and people that I would not personally like to meet. That is true. But the thing about film acting, and acting in general, for me, is that I really want to enjoy myself. I want to have as much fun as I possibly can when I work. I think it's important because I think it shows on the screen, somehow, even though it shouldn't, that there's this light, this sort of energy behind the eyes. And to me, a lot of these odd characters suit that kind of thing. I guess you could say I've played a lot of heavies, and that would come under that category. But having said that, I've pretty much played the full spectrum. But oddballs are fun for me. I love playing them. Misfits.
I've enjoyed watching you play characters who represent the lifting of repression. I saw that especially in If….
That movie really takes a dagger and sticks it in the heart of the [British] establishment through their schools, and the revolution in a boys' school. Of course, the great Lindsay Anderson, a genius director that I was very fortunate enough to work with, he didn't make it a sort of realistic piece. It's real, but not realistic, in that it's not a documentary-style movie. It's very stylized, very poetic, and so all the shooting of the parents at the end is a sort of imagination rather than to be taken literally, a la that horrific massacre in Columbine, for instance. But it's meant to stun and shock the audience rather than incite them to violence.
Continue reading →