BY ANDREW FISH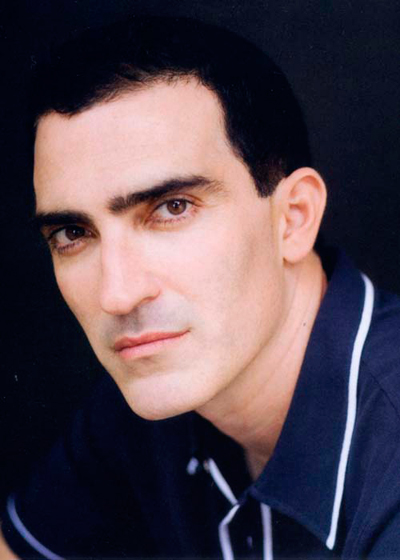 He pushed the elevator button in Speed and helped set the mood of David Lynch's Mulholland Drive over a decade ago, yet it's in the past few years that Patrick Fischler has truly ingrained himself in the on-screen landscape. You may know him as Jimmy Barrett, the loose-cannon insult comic on Mad Men who told Don Draper off for sleeping with his wife, or Phil, the overzealous security officer on Lost who fought to maintain order until his bitter end. He spent a season on Southland as Detective Kenny "No-Gun" and appeared on a recent Castle to help the crime-fighting lovebirds through a relationship crisis before revealing himself as the killer. As Fischler showed up on his first episode of Californication last year and was so creepily good that he was woven into this year's story arc, he continued to prove that the essential idiosyncratics of TV and film tend to find their groove when they're good and seasoned.
Now in his early 40s, he's having a blast with the juicy roles landing in his lap. David Duchovny's Hank Moody, for instance, witnessed a certain bit of debauchery and is plenty perplexed to find that Fischler's Gabriel has followed him to Californication season six as group-therapy leader at rehab. Admitting that he's played some unlikeable sorts, Fischler inhabits his characters as real people and lets the honesty get the audience in the gut. The actor, who has appeared on over 60 shows, sees Jimmy Barrett as the classic case in point, a guy with big ambitions and bigger obstacles who turned to insults-for-laughs as his only way to the top.
Director Michael Polish's adaptation of Jack Kerouac's 1962 novel, Big Sur, just debuted at Sundance and features Fischler as supporting character Lew Welch, a member of Kerouac's beatnik gang and unsung poet of the era. And just debuted at the Santa Barbara International Film Festival is the short film The Test, starring and executive produced by Fischler and his wife, Lauren Bowles, True Blood's blond Wiccan waitress (whose interview you can find here). It's their latest collaboration since they both appeared on Curb Your Enthusiasm in 2011, and the fun they had putting The Test together reminded Fischler of their time in the LA theater company Neurotic Young Urbanites, back in the day. He also enjoyed the unusual opportunity to play a regular guy. "She's a Southern witch and I'm, you know, playing a controlling, closeted rehab guy or a drunk poet," he says, "so it's nice to just be this couple who's dealing with issues." Fischler chatted with Iconic Interview on an early winter morning.
Californication is so wonderfully shameless. What did you think when you read the script for that first episode?
When they called to offer me a part on it, at that point it was just going to be that one episode, and I didn't see a script. I'm like, "Of course, I love Californication! I'll do it, sure!" And then I got that script and I kept reading and I saw, oh! Okay, so wait, what? Oookay. [laughs] I thought it was pretty funny and the character was great and I love those guys. Then, when my managers called and said, "You know what? They want you to come back for a bunch of episodes this season. They have this idea." I was like, "Great! Let's do it!"
What does your character get up to this season?
Hank goes to rehab and I run the rehab, and that causes problems because he and I don't get along very well. And then throughout the season, he needs my help with something. Running the rehab is the basis, the start of our relationship, me having to deal with all the shit he gives me.
And it all started with his meeting you at a party and seeing all of the strangeness behind the scenes.
Exactly, so that's why he's sort of like, are you kidding me? This is the guy who's running this?
When you gear up to play a character who's written to be dislikeable, and you've done a few…
Yes, I have. [laughs]
Do you get into the character's headspace to understand the character's perspective, rather than looking at this person as being dislikable?
Oh, a hundred percent. To me, that's the irony. Most of the characters that I've played that are dislikable, I don't think of as dislikable – this being one of them. I think Gabriel is actually a good guy who's trying his best, and he's sober. He's maybe got some odd personality traits, but I don't think he's dislikable. Jimmy Barrett from Mad Men being the classic of all of them. I thought he had a couple of, how should I say, issues. But I never found him dislikable. Everybody's got something in them that's likable. That's what I ultimately go for; I look at the humanity in everybody. Absolutely you've got to start there, and that's where you build up. I never, ever, look at any of these people as not likable. You can't really play that. You can't play "unlikable." You can give them circumstances and then go from there.
What were Jimmy's good points?
His good points were, I actually thought he was funny. I thought that when he found someone he cared about, he cared about them. It all came from insecurity, any kind of negative stuff that Jimmy had, it all just came from – probably in high school and growing up – not being Don Draper. Because of the way he looks and the way he was, he had to always think, "I'm never gonna be that guy, so I'm going to have to be something to get me to a level of that guy." Insecurity is always where a lot of people's stuff comes from, so that always breaks my heart for somebody.
Continue reading →