BY ANDREW FISH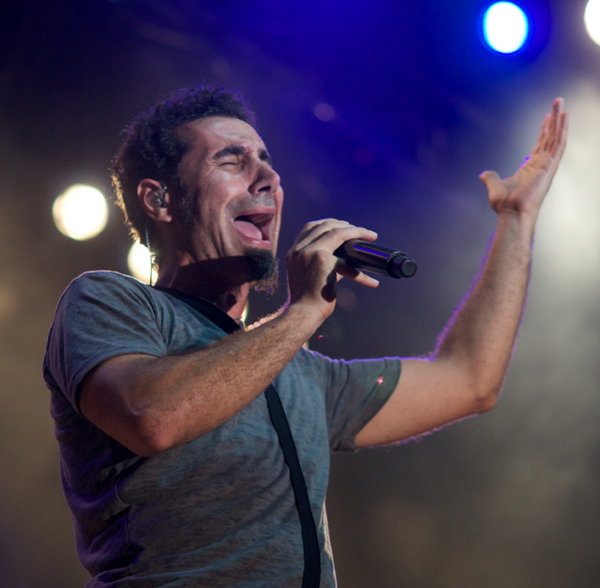 When System of a Down first hit, they fit right alongside their nu-metal contemporaries, yet their sound and sensibilities came from somewhere else. Serj Tankian's voice shattered and soared with cultural history, out to educate as well as entertain. I suspect there are many who would never have heard of the Armenian Genocide if not for Tankian's visibility and activism, and as he's set out on his own, his work has developed an even finer focus on the state of the world. His latest solo effort is Harakiri, a release that offers pounding licks and flowing melody while taking on issues of environmental degradation, the Israeli-Palestinian conflict, reality television, and American corporatocracy — all fitting topics for the performer who co-founded the social-action organization Axis of Justice with guitarist Tom Morello.
When I first heard System's music back in 2001, I remember wanting to hear more of the Armenian performer's softer vocals, like the ones that crept into "Toxicity" and "Deer Dance," and — amid the hard-hitting rock — Harakiri provides just that. The album's title was inspired by the eerily synchronous mass die-offs of fish and birds in early 2011, to which the musician applies the metaphor of hara-kiri, a samurai's ritual suicide. "They crown the sun," he sings on the title track, suggesting a spiritual significance to the creatures' mysterious demise. Tankian has just finished up the North American leg of his album tour, having performed his final Stateside show at L.A.'s Club Nokia to an adoring audience, and now he's off to Europe. Harakiri is my favorite of Tankian's solo works thus far, and it's one of several projects he's currently working on.
Also in the works is a fusion of classical jazz and dancehall synth called Jazz-Iz-Christ, and a full-orchestra symphony entitled Orca — a beautiful work, if this sample is any indication. The Lebanon-born artist collaborated with Jimmy Urine from Mindless Self Indulgence on a project called Fuktronic, an experimental mix of jazzy, "Euro-trash electronic music," Tankian explains, which plays underneath British mobster-style dialogue. "We started ass-backwards. We did the music and the voiceovers with a small script. Now we're starting to work with a company to do these really awesome, interactive, mobile, visual applications. So we're making it into an interactive, illustrated film."
Tankian is also planning to adapt Prometheus Bound, the theater production he composed in partnership with Amnesty International — a collaboration with Steven Sater and Diane Paulus — into a "virtual web-based musical," he says. "I'm thinking of doing things that haven't been done before, because that's exciting, artistically, creatively, technologically. Some of them might be successful, some of them might not, but either way, it's a success when I want to do them and I can do them. That's a success!"
It's a serene drive through the mountains to meet with Tankian at his home in Calabasas. I had interviewed him once before for his Elect the Dead Symphony in 2010, and I was looking forward to the follow-up. He's flanked by two friendly dogs — one named Bowie for his different-colored eyes — when we meet in his peaceful, hardwood sanctuary overlooking a forest valley. The quiet, thoughtful rocker kicks back on the couch to chat about Harakiri, social change, spirituality, and the blast he's had back on the road with System.
How did you decide you were going to put an album like this together?
I started early last year and I had no intention of doing another rock record. I was in New Zealand, I remember, in January of 2011, and we were experiencing the massive deaths of birds and fish around the planet. I was playing those chords on the piano, which turned out to be the title track. I sat down at the piano, and I was playing this tune already, and I kind of put the two together, and that became the title track. I stepped back when I was singing it and playing it and I'm like, wow, this could be something really amazing. Because it felt powerful, even as an acoustic song on piano. And for whatever reason, right after that, the songs just started coming to me, like from the universe. By April or May, I had most of the record, as far as writing — not the production so much, but the basic elements were done. So by the end of the year I had finished the record and started mixing it, and I finished mixing it early this year.
Harakiri is almost like a collage in the way that it incorporates so many different styles. Was this intentional or just how it happened?
I think it's the working process that created that, because the songs that I wrote originally were these three or four that had this certain flavor, like "Harakiri," like "Forget Me Knot," that I wrote in one period in New Zealand. And then I started doing a musical [Prometheus Bound] in Boston and I wrote one or two songs there — "Occupied Tears," and I want to say "Uneducated Democracy," maybe. And then I got on the road with System — it was a busy year! — so I wrote a few songs there. And then I did the three songs that I had sketched out on the iPad, so depending on where I was and what was going on and how I wrote, the songs came out accordingly. There's one song from the musical, actually, called "Weave On," which is the last song on the record.
That does explain the frenetic feel of the album, bouncing between landscapes.
Frenetic is a good word for it. I was bouncing around continents, landscapes, projects. I was working on four records at once, all of completely varied genres, so I think all of that lent itself to making each project really interesting. I would say Harakiri is the easiest record I've ever written in my life, the least filtered record, and the least amount of time I've spent making a record. I just put it down, and didn't question what I was saying, didn't question what the arrangement was, I didn't fuck much with it, basically. I mean, I played around with it to make it as great as possible in its presentation, performance, and recording. I spent a lot of time mixing because I didn't want to use a mixer; this time I wanted to do it in-house with my engineer. So all of that stuff took time, obviously, but it was very, very raw in how it got together. And I think the message comes out that way, that there is a certain urgency, a certain direct connection, a certain unapologetic sense of transference.
Continue reading →