BY ANDREW FISH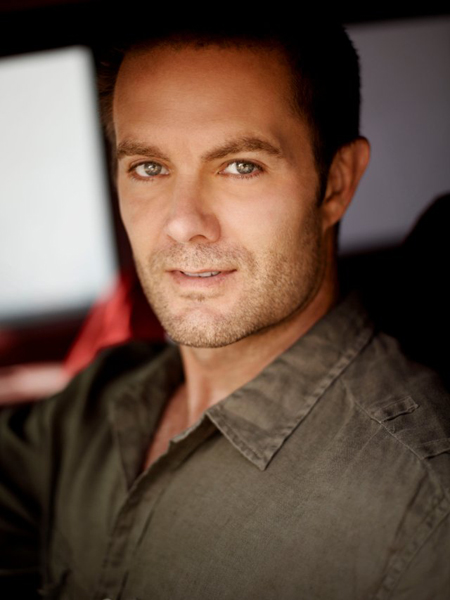 There's a reason Garret Dillahunt is one of Hollywood's favorite hired guns. As Jack McCall on HBO's Deadwood, he ended his arc after murdering Wild Bill Hickok, then returned to the show as an entirely different character with many viewers unaware they were watching the same actor. He played three roles (four by some counts) on Terminator: The Sarah Connor Chronicles, including an emotionless killing machine and the human-like interface of a benevolent artificial intelligence. He was evil incarnate in the 2009 horror film The Last House on the Left and landed the role of sitcom dad on Fox's Raising Hope just a year later. With uncanny adaptability, Dillahunt sinks into his characters so deeply that the performer himself is nearly undetectable.
Dillahunt's on-screen acumen has landed him on the short list at the highest levels. Brad Pitt's Plan B Entertainment, for example, cast him in The Assassination of Jesse James by the Coward Robert Ford, Killing Them Softly, and the upcoming Twelve Years a Slave, and the Coen brothers made him right-hand man to Tommy Lee Jones in No Country for Old Men. He has a lengthy list of credits on the small screen, including Leap Years, The 4400, ER, Numb3rs, John from Cincinnati, Damages, Life, Criminal Minds, CSI, Law & Order: SVU, and Burn Notice. And with a spate of bad-guy characters under his belt, even those in the know tend to forget that Dillahunt got his start in comedy on shows like Maximum Bob with Beau Bridges and A Minute with Stan Hooper with Norm MacDonald.
So even though his current gig on Raising Hope is worlds away from his role as a duty-bound yet wavering Sheriff in Winter's Bone or the sharp-shooting "gat man" he played in Looper, the show needed the complexity of a chameleon like Dillahunt to nail the nuances of the uncomplicated and hilarious Burt Chance. Following the struggles of a hapless 20-something (Lucas Neff ) who, with the help of his family (Dillahunt, Martha Plimpton, Shannon Woodward, Cloris Leachman), is raising the daughter he unwittingly had with a serial murderer, the unconventional sitcom earns its laughs from the subtleties of story rather than a barrage of punchlines.
Dillahunt is also currently co-starring with Alan Cumming in Any Day Now, a film about a gay couple in the 1970s who take in an abandoned teenaged boy with Down syndrome and battle a prejudiced legal system to retain custody. The powerful piece features newcomer Isaac Leyva as the boy at the center of it all and an icy Frances Fisher as a family court judge.
From the lovable Burt, to Cromartie the terminator, to Jesus Christ on The Book of Daniel, there is a certain Zen-like calm that runs through Dillahunt's uncommonly diverse array of characters, and we get a hint of it as he speaks with us in his easy cadence on a recent afternoon.
Iconic Interview: Raising Hope is really idiosyncratic and I can't think of anything else like it. What do you think makes this unusual show so successful?
Garret Dillahunt: I think it's because it's good and funny and people can identify with it in some way. I don't think it's far-fetched to assume that. This family is not a rich family; they have a hard time getting by, but you wouldn't know it. They still find a lot of joy. They're idiosyncratic, but loving. I think that's how most families are, really. Everyone thinks their family is the craziest family in the world. [If you ask], they're like, "My God, my family's crrrazy!" So I think it's not far from home for everybody.
Even though your character may not be a member of Mensa, he has a certain simple wisdom about him. How did you first approach the character?
I think [show creator] Greg [Garcia] and I have a similar sensibility; I don't think that's arrogant to say. Things are a little weird; it's not a typical sitcom. The jokes don't really land [with the standard beats]. I went on tape for this in New York, I believe, and I just did what I thought was funny. [It was a lot] of little weird behavioral things that aren't necessarily written in the script. I think [Burt is] innocent; there's an innocence about him that he has managed to maintain — or has accidentally maintained — and that allows him to respond to things as they happen. He's guileless, and it's fun to play.
Continue reading →