BY ANDREW FISH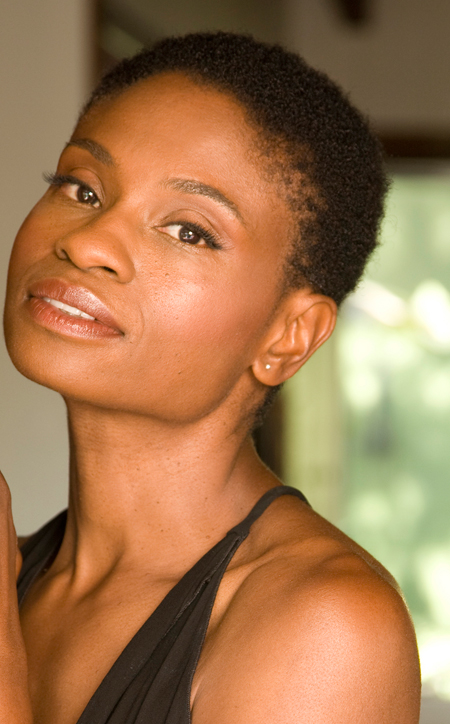 Juggling career and family is a lot easier when you love what you're doing. Heading into its second season, HBO's "The Newsroom" has been controversial since day one, and Adina Porter has been all the more thrilled to be involved as the sparks have flown. Best known for her intense portrayal of Lettie Mae Thornton, the manipulative, sanctimonious, emotionally abusive mother of Tara (Rutina Wesley) on the hot and sultry vampire saga "True Blood," Porter is now happily dedicated to her "Newsroom" supporting character, Kendra James. Following frustrated Republican anchorman Will McAvoy (Jeff Daniels) as he wages media war on the Tea Party and its influence on the GOP, the Aaron Sorkin-created show has spawned prolific debate, with detractors and supporters generating pages of opposing opinions on the message boards — and it's proving to be one of Porter's all-time favorite projects, among the dozens she's appeared on.
When we asked Porter which of her other recent TV roles we might take a look at before our meeting in Toluca Lake, she let us know that with two kids, she rarely watches her television work — besides "The Newsroom" — and has trouble keeping track of which shows she's on. "Thank goodness for IMDB," she wrote in an email. Her portfolio starts in the early '90s and includes "Law & Order," "Brooklyn South," "Judging Amy," "Crossing Jordan," "NYPD Blue," "ER," "CSI," "Prison Break," "American Horror Story," "Grey's Anatomy," "Glee," and "The Vampire Diaries." She appeared in The Peacemaker (1997) starring George Clooney and Nicole Kidman, and About Sunny (2011) alongside Lauren Ambrose. She was also featured in the HBO TV movies "Gia" (1998) with Angelina Jolie, and "Lackawanna Blues" (2005) with Macy Gray, Mos Def, Terrence Howard, and Louis Gossett Jr. Joining the dialogue about the importance of diversity in entertainment, she participated last year in an HBO-sponsored panel at the American Black Film Festival with Sufe Bradshaw ("VEEP"), Michael K. Williams ("The Wire"), Nelsan Ellis ("True Blood"), and JB Smoove ("Curb Your Enthusiasm").
As a familiar on-screen face for two decades, Porter reflects on her niche as a guest star: "There's a part of me that thought, really good actors become series regulars — and then 'Newsroom' came around and I thought, do I want to be a series regular on a show that pays the bills but people won't be talking about years from now, or guest star on a show that I think people will be talking about years from now? I like being a guest star! It's quite a muscle, having to prove yourself over and over again."
Next up is a return to the supernatural backwaters of Bon Temps, where Porter will once again sink into the spiteful fury of "True Blood"'s Lettie Mae and exorcize the stress that her dual life as mom and working professional inevitably brings. Here's what transpires when we meet on a sunny spring morning.
Iconic Interview: Did you have any advantage in getting your role on "The Newsroom" because of your work with Aaron Sorkin on The Social Network?
Adina Porter: It was just a regular audition, except it was on camera at Sony Studios. None of the big shots were in the room; it was really low pressure. And then something like six weeks went by and I get a phone call from my manager saying, "It looks like you're in the running for this." I was like, great! It was [an audition] that you do and you forget about it. Then I'm told by my agents that [co-executive producer] Scott Rudin said, "I want Adina Porter. Why isn't Adina Porter booked yet?" So they were like, "Okay, let's book Adina Porter!" So that's what happened and I'm really glad that Scott Rudin is a fan, and I don't know if it was because of Social Network. Scott's quite a theater person, so I think it's because all the stuff I've done in my life has just added up to this!" Continue reading →