BY ANDREW FISH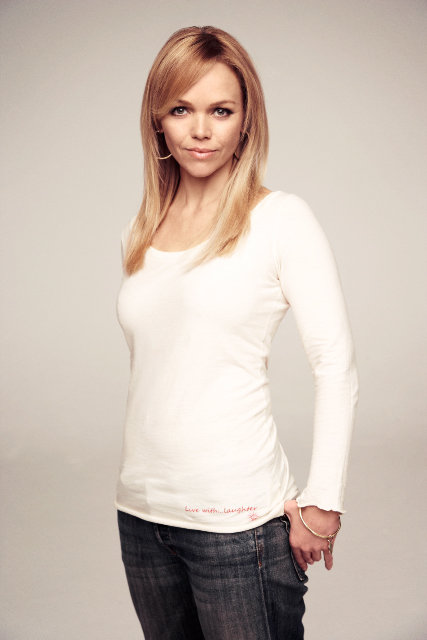 Ever since True Blood hit the air, fans have fantasized about living in the fictional Louisiana town of Bon Temps, and once in a blue moon someone gets her wish. Lauren Bowles has gone from watching the supernatural mayhem from her living room couch to serving burgers at Merlotte's and battling dark forces side by side with Sookie Stackhouse. A screen actress for some time now — with episodes on shows like Ally McBeal, NCIS, Arrested Development, Grey's Anatomy, ER, Cold Case, and tons of others under her belt — Bowles has stepped up to series regular on one of her favorite shows and still can't believe her luck.
She joined the cast of the HBO series in season three as Holly Cleary, the fair-haired Wiccan single mother, who tried to help fellow waitress Arlene rid herself of the unborn child she'd conceived with a serial killer. The spell didn't work, but it set the stage for Holly's pivotal role in season four, as she summoned the dead on Halloween night to spirit away the mad medium Marnie before she could kill vampires Eric and Bill.
Bowles is also often recognized for her role as the waitress on Seinfeld, which she landed with the help of her half-sister, Julia Louis-Drefuss. Bowles went on to appear with her big sis on Watching Ellie and The New Adventures of Old Christine, and was cast along with her husband, Patrick Fischler, on an episode of Curb Your Enthusiasm.
These days, the sparks are flying between her True Blood alter ego and Sheriff Andy. After a false start, the two ended up in bed together, got caught by her two teenage sons, and Andy's bare bottom was posted on Facebook. Now they're going steady — but what about Maurella, the fairy that Andy swore allegiance to before having sex with her in the woods? Nothing is ever simple in Bon Temps, and Bowles likes it that way.
I've read that you were a fan of True Blood long before you were cast on it. It must have been exciting to get the audition.
It was so surreal, because beyond just True Blood, I was kind of an Alan Ball fanatic. American Beauty really rocked my world in a way that no movie had up until that point, [and there was] Six Feet Under. So when I heard he was going to be in the room, I completely freaked out. I was like, oh, God! But I thought, this job's too big [and] it's going to go to a name, so my goal was like, okay, just don't screw it up so that they bring you back for a guest spot. That's really it; that was my attitude going in. [laughs] After the audition, by the time I got home, I got the call that I had gotten it. I don't think I can remember the last time I was that shocked. I was over the moon but beyond shocked. It wasn't within my realm of understanding that that could have ever happen.
You got the news as soon as you got home?
It was hilarious! I was just walking into my apartment; my mom was sitting with my then baby girl, who's three now, and my manager called. I assumed he was just calling to see how [it went], and then he literally told me I booked it and I screamed, and my baby looked up and my mom looked at me. It was clearly a happy scream but they kind of looked a little startled and I was like, no, no it's a good scream! And then all was good. It was wild. Wild!
Continue reading →